Tour - Operating area
We have a wide variety of instruments and equipment in order to meet the various needs of surgical procedures.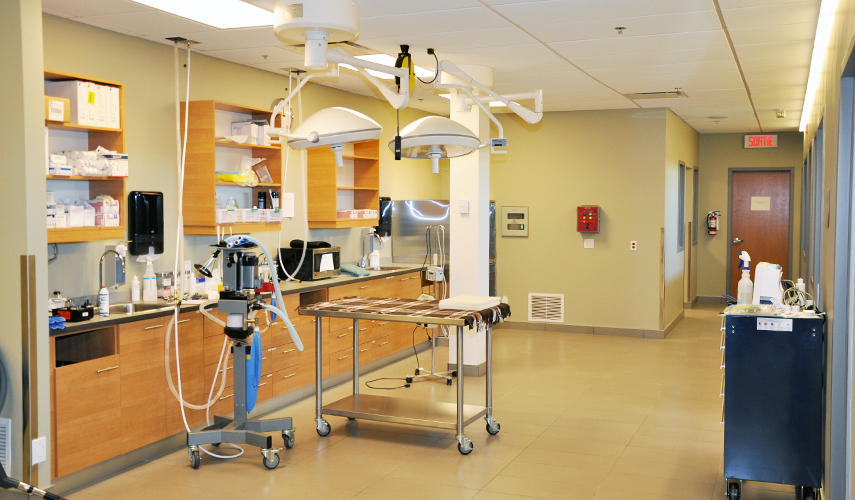 Laser surgery
This technology can be used in some types of surgical procedures and allows for a much faster recovery. For example, in the case of an onyxectomy, the cat can return home faster and be a lot more comfortable.
It also helps control bleeding and the damage done to the gums when performing the excision of a gingival mass.
Operating microscope
This microscope is specifically used for microsurgeries, such as eye surgery. The delicate anatomy of the eye, the very small size of the instruments and the suture material justify the use of such a device.
Sterilization unit
Every surgical kit, all the surgical drapes, gowns, towels and other items are sterilized to insure rigorous asepsis.
Preoperative and recovery room
Located near the treatment room, it allows us to keep our patients under direct and constant observation.
We use state-of-the-art equipment as well as isoflurane, a safe and modern anesthetic gas. All animals under anesthesia undergo constant cardiovascular monitoring. To minimize risks, three CO2 collectors are available at the time of anesthesia.
Just like for newborns in human hospitals, the incubator provides oxygen and/or warmth to puppies and kittens as well as to small pets coming out of a lengthy surgery (as their body temperature decreases) or to any sick animal in a fragile state requiring warmth and constant monitoring. We also have large warm air blankets for large dogs.